Northern California
Club, Shop Rides
Saturday morning rides: Hollister. Meet up 8 a.m. at Off the Chain, 101 Mc Cray St., Hollister. 22 mi. road ride. Moderate to fast pace, regrouping. www.offthechainbikes.com
Tuesday evening road ride: Hollister. Meet up 6 p.m. at Off the Chain, moderate to fast pace, regrouping. www.offthechainbikes.com
Thursday evening road ride: Hollister. Meet up 6 p.m. at Off the Chain, 33 mi. Cienega Loop, fast pace, regrouping. www.offthechainbikes.com
Centuries, Fun Rides
September
9/9 American River Bike Fest: William B. Pond Park, Sacramento. Staggered start times starting at 6 a.m. Along the way, riders will be able to stop at different rest stops and enjoy snacks and services. All riders will meet back at William B. Pond Park after their rides for a festival with barbecue, libations, raffle, activities, live music from The Leaping Blennies, and more! https://arpf.org/events/bikefest/
9/16 Tour de Menlo: Menlo Park. 35, 43, 63 mi. routes, plus a new 16 mi. family ride, which goes around the San Francisco Peninsula. After taking different routes from the start, all riders, except the 16 mi., will eventually head south on Stevens Canyon Rd. to the final rest stop at Madrone Park. Riders can rest and enjoy refreshments before heading back to the start for a relaxing lunch. Tour de Menlo
9/16 Central Coast Ride & Rally to Defeat ALS: Bang the Drum Brewery, San Luis Obispo. Choose between a 33-, 24-, 16-mi. ride, or a family/wheelchair-friendly walk in beautiful San Luis Obispo County. Breakfast foods including coffee, bagels and fresh fruit will be available for all participants. All routes have SAG support. This is a fundraising event for the ALS community and the Golden West Chapter of The ALS Association. Central Coast Ride & Rally to Defeat ALS Save 20% with code: CYCLECA!
9/16 Tour of the Unknown Coast: Ferndale. Choose from the Tour of the Unknown Coast Century, Avenue of the Giants 100K or Freshwater 4-H Club's Family Ride! Expect spectacular rides thru redwoods and along the Pacific Ocean. Tuccycle.org
9/17-23 Pedal for Protein: Windsor. 240 mi. ride that takes participants through the majestic Redwoods, fertile valleys and farmlands of Sonoma, Marin and Napa counties. Reg. for the 5-day ride is $400, includes a custom jersey and either of the 1-day rides on 9/23. All riders are encouraged to participate on 9/23 but are not required to do so. http://pedalforprotein.com/
9/23 Napa Valley Ride to Defeat ALS & Walk: Justin-Siena High School, Napa. Choose between a 9, 28, 47, 62-lite (flat), 62-mi. challenge, or 100 mile route through beautiful Napa County. For any non-cyclist there is a short family/wheelchair-friendly walk option offered. All routes have rest stops, SAG vehicles, and route monitors. The post-ride festivities include a lunch, beverages (beer, wine, and non-alcoholic), a live band, massage tent, and more. This is a fundraising event for the ALS community and the Golden West Chapter of The ALS Association. Napa Valley Ride to Defeat ALS Save 20% with code: CYCLECA!
9/24-30 32nd Annual OATBRAN: Stateline, Lake Tahoe. One Awesome Tour Bike Ride Across Nevada. Stateline Lake Tahoe, NV to Great Basin National Park, Baker, NV. Fully Supported Motel style tour on US Hwy 50, America's Loneliest Road. 5 days of riding 415 miles with 17,000 feet of climbing. Limited to 40 participants. BiketheWest.com
9/30 10th Annual Sacramento Century Challenge: Capitol Mall, Sacramento. Bike ride on Saturday thru the scenic Delta wine region. Fun and flat distances:100 mi., 63 mi., 36 mi., 16 mi. Please join us for our Post Ride Festival with live music, great food and beer and wine vendors. Registration opens 6/1. Sacramento Century Challenge
9/30-10/7 California Coast Classic Bike Tour: San Francisco-Los Angeles. 8-day, 525-mile ride that raises funds for the Arthritis Foundation and supports the 60m adults and 300k kids in the US with arthritis. This boutique 23rd annual tour along California's iconic Highway 1 is fully supported, open to beginners as well as experienced riders, and e-bike friendly. The ride is expected to sell out (250 riders max), so register now for your Ride of a Lifetime at California Coast Classic Bike Tour. Save $25 with code: CYCLECA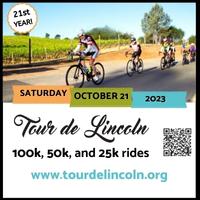 October
10/1 Tour de Cure: Sonoma State University, Rohnert Park. 100 mi., 62 mi., 31 mi., 10 mi., in Sonoma Wine Country. Registered participants will enjoy lunch, live music, family activities, wine and beer at the end of your ride. Tour de Cure
10/1 40th Annual Mt. Diablo Challenge: Monte Vista High School, Danville. Iconic 11.2 mi. ride climbs 3,249 ft. to the summit of beautiful Mt. Diablo. The road is closed to cars during the event. All ages, skill levels, bike types, and teams are welcome. Prizes awarded to King & Queen of Mountain & age groups. Individual times. Net proceeds benefit bike safety & conservation on Mount Diablo. Reg. includes BBQ lunch, snacks, prizes. www.mountdiablochallenge.org
10/7 Wine and Roses Bike Ride: Templeton. 62 mi. metric, 31 nu, half metric. Enjoy the beautiful scenery and outstanding terrain. The Central Coast offers some of the best rides available to cyclists. This event is limited to 200 participants. After your ride, celebrate your ride with a scrumptious BBQ and enjoy premier wines from surrounding vineyards. wineandrosesride.com/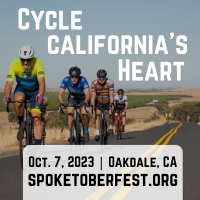 10/7 Spoketoberfest: Oakdale Bike Shop, Oakdale. Choose from 10 mi, 30mi or 52mi route options. All thre rides go through the scenic coutryside of San Joaquin Valley and Stanislaus County. Reg fee includes t-shirt, voucher for local beer, and a post-ride meal. Reg. closes August 31. spoketoberfest.org
10/7 Grizzly Gravel & Century Rides: North Fork. 24 mi. Loop the Lake w/1,836 ft. elev. gain. 36 mi. gravel grinder short course 8 mi. road, 28 mi. gravel, 3,700 ft. elev. gain. 57 mi. gravel grinder (30 mi. road, 27 mi. gravel), 100 mi. Grizzly Century 10K elev. gain; 63 mi. Grizzly Metric w/6,587 ft. elev. fresnocycling.com
10/7 BEST OF THE BAY: Castro Valley. Double century & century. 3 segments: The first has many small climbs and descents heading north to Grizzly Peak and back. The second segment climbs and descends Mt. Diablo. The third and final segment of the double century ride travels to these other great cycling destinations in the Bay Area: Sunol-Ohlone Regional Park, the Livermore vineyards, and the foothills of Mt. Diablo. The final 60 miles are less demanding, resulting in a finish without any significant challenging climbs. cherrycitycyclists.com/bob
10/14 3F Century: Colusa. A Flat, Fast, & Fun bike ride! Century, Metric Century and 39 mi. rides. A GREAT first century. The course is really flat. The routes travel along the Sacramento River, through orchards and rice fields and around the Sutter Buttes. SAG support, great rest stops, post ride meal, first century completion patch. 3FCentury.com
10/14 Bass Lake Powerhouse Double: Clovis. 202.3 mi. w/10,596 ft. of elev. gain. For serious riders, well-trained and fit! fresnocycling.com
10/21 Foxy's Fall Century: Davis. The ideal first century ride, it offers routes and scenery for riders of all levels.100 mi. w/3,100 ft. of climbing, 100K w/1,100 ft. of climbing, a flat 50K along country roads thru orchards—great for families DavisBikeClub.org/Foxys-Fall-Century/
10/21 Tour de Lincoln: McBean Park, Lincoln. 25K, 50K, 100K routes. The metric rolls over oak-covered hills, by horse ranches, country estates & lush vineyards. Total climbing 3,826 ft. 50K has gentle climbs (1,300 ft.) & valley views. the 25K is a nearly flat loop. TourdeLincoln.org
10/22 Cycle of Hope: Dublin. 4 routes + virtual: 62mi., 33mi., 10mi., and a kids' course. Enjoy scenic routes, SAG, a great swag bag, and a finish line festival that's fun for the whole family! Cycle of Hope supports Habitat for Humanity East Bay/Silicon Valley's mission to build, renovate, and repair affordable housing for Bay Area families. SAVE 20% with code CYCLECA. HabitatCycleOfHope.org
10/28 Spooktacular Century: California Living Museum, Bakersfield. Family Fun ride, Forboding 36, Morbid Metric, Nightmare 90, Hideous 100 routes. All new routes, and expect an after-party! kernwheelmen.org/spooktacular/
10/29 Zombie Bike Ride: Davis. 12-6 p.m. Ride the 12 mi. Davis Bike Loop and encounter 15+ Zombie Entertainment Stations. A FREE event for the whole family! Ride the 12 mile Davis Bike Loop and encounter 15+ Zombie Entertainment Stations. Zombie Bike Ride 12-3 p.m. Skydiving Grand Finale 3:30 p.m. Zombie Mash Afterparty 4-6 p.m. www.zombiebikeparade.com
Road Bike Races
September
9/17 Oakland Grand Prix: 400 21st. St., Oakland. .75-mi. loop along a closed course on Uptown Oakland. Cash prizes & tee shirts. USA Cycling categories 1, 2, Pro, 3, 4/5. Women 1, 2, 3; 4/5/40+ Masters groups, kid's challenge, Messengers relay. Cash prizes & t-shirts. Velopromo.com
9/23 Henleyville Road Race: 20351 Simpson Rd., Corning. 18n mi. loop, open course, nearly flat on quiet roads. Most USA Cycling categories, no juniors. Minor prizes including t-shirt. Velopromo.com
Southern California
Centuries, Fun Rides
September
9/9 Mammoth Gran Fondo: Mammoth Lakes. 102 mi. gran fondo; 70 mi. medio; 42 mi. piccolo. New this year, e-bike reg. categories! Expect fun, challenging, high-altitude riding on all the routes. The gran fondo has 6,643 elev. gain; medio has 3,601 ft. elev. gain; piccolo has 2,340 elev. gain. Mammothgranfondo.com
9/16-17 Eroica California Weekend: Cambria. 35 mi. Piedras Blancas, 1,600 ft. elev. gain; 73 mi. Santa Lucia, 6,000 ft. elev. gain; 97 mi. Heroic, 8,200 ft. elev. gain. Spend the weekend in Cambria — there are so many things to see and do there! Eroica.cc
October
10/7 UCI Anti-Cancer Challenge: Aldrich Park, UCI campus, Irvine. 15, 37, 60, 100 mi. road bike rides; 5k, 10K run/walk & a special MTB ride that's open to 50 VIPs only. Make a big difference for the future of cancer research! Anti-cancerchallenge.org
10/7 Riverside Citrus Classic: Riverside Plaza Arch facing Riverside Ave. 7 mi. Family fun ride, 30 mi., 50 mi., & 100 mi. road routes. The longer rides travel along the Santa Ana bike trail & pass thru challenging & hilly terrain of Riverside, Redlands, Yucaipa & by Lake Perris. riverside-citrus-classic.com
10/15 Ciclavia - Heart of LA: Ride, bike, skate, run, walk, skateboard, spectate, & enjoy the route whatever way you want. www.ciclavia.org/
10/21 Ride Santa Barbara: Chase Palm Park. 100 mi., 9,000 ft. elev., 100 km + Gibraltar Challenge, 7,000 ft. elev., 100 km Coastal Route, 4,000 ft. elev., 35 mi., 2,200 elev. gain. Ridesb100.com
10/28 Victor Valley Bicycle Tour: Apple Valley Civic Center. 62 mi., 30 mi., 10 mi. routes. The mission is to raise awareness of safe bicycling and promote cycling as a healthy lifestyle for recreation and transportation.victorvalleybicycletour.com
10/28-29 Phil's Cookie Fondo: Malibu. Kick off the weekend with 2 self-guided routes to cover the climbs that you won't get to on Sunday. 45 & 59 mi. Sunday's climbs are longer and harder, — showcasing the amazing riding around Malibu. Philsfondo.com
10/29 Tour de Summer Camps: American Jewish University, Brandeis. 18, 36, 62, and 100 mi. routes. Or, do a Cycle at Camp & spin on a stationary bike. Or, do a 3 mi. hike on wide hiking trails. www.tourdesummercamps.org/
10/29 Finish the Ride Santa Clarita: West Creek Park, Santa Clarita. 12 mi. fun ride/roll; 25 mi. Tour de River Ride, 62 mi. metric. 5K/10K run/walk. Reg.: includes t-shirt or athletic sleeves, chip timing for 5K/10K, music, food, vendors, costume contest! funstreetsareforeveryone.org/finish-the-ride-santa-clarita
November
11/3 Mike Nosco Memorial Bike Ride: Dos Vientos Community Park, Thousand Oaks. 82 mi. full course w/9,000 ft. elev. 63 mi. Latigo route, 5,400 ft. elev. 50 mi. Liv route, 3,800 ft. elev.
11/4 Solvang Sequel: Buellton. 62 mi., 3,500 ft. elev., 50 mi., 2,500 ft. elev. Ride with no crowds, great support. A fundraiser for Life Sports Foundation. planetultra.com
11/4 Bike the Coast San Diego: Oceanside Pier. Ride 25 mi., 50 mi., 100 mi. on historic Highway 101 or enjoy the 7 mi. or 15 mi. family rides. bikethecoastsd.com
11/11 Tour de Foothills: Downtown Upland. Family fun ride, Half metric, metric, & century routes. Enjoy post-ride festivities, in Vendor Village and our Tour de Brews Beer Garden! Food, drinks, music, & stories. Tourdefoothills.com
Oregon
Centuries, Fun Rides, Tours
September
9/16 Ride the Rim: Crater Lake Nat'l Park. Ride the Rim offers a vehicle-free way to experience Crater Lake National Park. With approximately 25-miles vehicle free, 3,500 feet of climbing, and 5 rest stops - you don't want to miss out! Register at RidetheRimOregon.com
9/23 Ride the Rogue: Palmerton Park, Rogue River. 20 mi., 40 mi., metric distances. Enjoy well-stocked rest stops, SAG, & after the ride, food, live music, and fun! ridetherogue.org
Nevada
Extreme
September
10/7 Park to Park Pedal Extreme: Caliente. 100 mi. Extreme 5,600 ft. elev., 60 mi. Double Jack 1,500 ft. elev., 40 mi. Helix. Enjoy miles of scenic beauty as you ride along Nevada's first Scenic Byway, Highway 93. Peddle past the 1920's mission-style depot in the railroad town of Caliente and through the historic mining town of Pioche. parktoparkpedal.com
Road Races
September
9/9 Race the Rails: Ely. The world's only bike vs. train race! Road and mountain bikers take off at the sound of the train whistle! Mountain bikers test their speed & agility on a challenging 10-mi. course through the beautiful mountains surrounding Ely, while road bikers prove their speed and endurance on a 25-mi. course along roads and highways. Elynevada.net/race-the-rails/
9/22-24 The Silver State 508: Reno. 508-mile bicycle race is revered the world over for its epic mountain climbs, stark desert scenery, desolate roads with a reputation as one of the toughest but most gratifying endurance challenges around. This event is a RAAM qualifier. The508.net
Events outside the Region
Road Bike Tour
September
9/16-17 Moab Century Tour: Dead Horse Point State Park, UT. 100 km., 5,500 ft. elev. gain. From your saddle, you embrace the landscape, feeling the contours as gravity tugs on your tires, challenging you to climb and daring you to descend. www.skinnytireevents.com